Jared's great grandfather Samuel Martin emigrated to Cape Town South Africa in the late 1800's.  We set out to find some landmarks recorded in my great grandfather's journal.  It was quite an adventure looking for landmarks over 115 years old.
We found the church Samuel and Clair were married in (St. Mary's Anglican Church in Woodstock).  The approximate location of were they lived (22 Wiliam Street, Woodstock.  Now it is a parking lot for the Woodstock Police Station).
This is what Samuel called the second Mission Hall.  It is where the early Cape Town saints met. It is a good sized building very close to where Sam and Clara lived.  This building is still being used as a church.
Found the cemetery were Aunt Claire was buried. That cemetery is so big, you can see it from the top of Table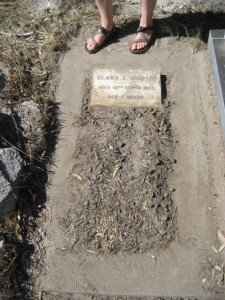 Mountain.  We went to the office to ask for help with the plat numbers, but the guy just looked at us as if we were crazy.  Thank goodness we got good directions from my Dad's cousin, Kraig Beckstrand.
We also found the church in Mowbray.  This land was the site of the mission home when Samuel was the South African mission president.