We were honored to participate in the blessing of our nephew this weekend. It is wonderful to see the priesthood in action and to feel of the love Heavenly Father has for his little ones.
We got to hold Kendyl (our 2 year-old niece) during sacrament and she and the other nephews and nieces loved my "Mary Poppins" church bag. I have to admit that I love the toys in the bag almost as much as the kids. 🙂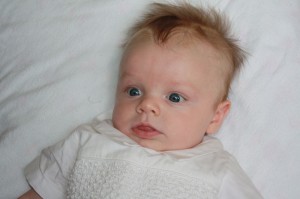 We were also able to get some pictures of Jared and I. I love the ones where we are having fun. I especially love the lilacs (one of my favorite flowers).