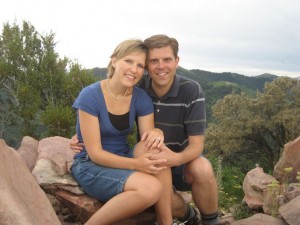 After many rumors and two family reunions, Jared proposed to me.
This afternoon we packed a small pack with some water and snacks and started up the trail to Summit Park Peak. This is the highest point in the area with a wonderful 360 degree view of the mountains and the Salt Lake. It was a great temperature for a hike… not to hot for a native northwesterner like myself.
We arrived at the top and stopped to catch our breath and enjoy the beautiful scenery. Once I was comfortable Jared dropped to his knees in front of me and asked me to marry him. I responded "I would love to marry you!" He then presented me with a temporary ring so that I could choose the actual ring.
We continued to sit and enjoy the moment until an approaching thunderstorm forced us to head down the mountain.
Note From Jared:  Check out that ring!  It is the best $14 I have ever spent!