We spend the next three days in St. Lucia, a small resort community on the beach and near three game reserves.  We went to a park and watched the hippopotamus graze and the crocodile open their mouths.  We went shopping (an activity that would be repeated several times throughout our trip).  After a late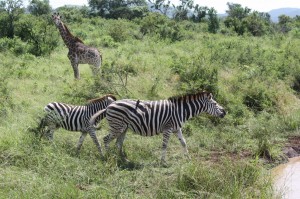 lunch we got to go to the beach and wade in the Indian Ocean where Erika put on quite a show.
The next day we made it into Hluhluwe and Maphelana Game Reserves.  It was a fun day of watching for any possible animals, especially the big five (lion, cheetah, elephant,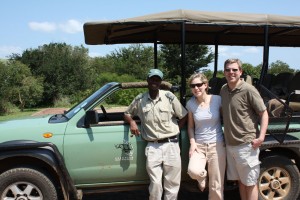 rhinoceros and buffalo (not to be confused with the bison we have in the states).  We saw both the White (or Wide) and Black Rhinoceros, Elephant, Giraffe, Wildebeest, Zebra, Monkeys, Baboons, Kudu, Nyala, Impala, and a Warthog family.  I am sure we are leaving something out.  It was a long day of trying to see who could find the best animals first.  I think Erika won.