My sister Lisa is in town still and her kids wanted to hike to the "Y" at BYU. We decided to join them and got up early so that we could leave Mom & Dad's with the kids and David at 8 AM. Fortunately it was a cooler day which made for a wonderful hike. Everyone made it to the top of the "Y" even Elaine (with Nutmeg's help to distract her). When we got back to the car we decided that everyone deserved ice cream from the BYU creamery. YUMM!!!
Here is a picture of us at the top of the "Y".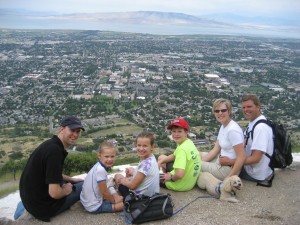 Later that day Jared and Dad took the boys and Elaine to visit the Copper Mine. They loved it. The machinery was amazing! A boy's dream to see it up close! It is the largest copper mine in the world and the equipment they use is HUGE!!!
Here is a picture of just the tire for some of the trucks. It is 12 feet tall!!!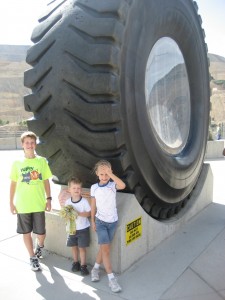 Here is one of the trucks that use the large 12 foot tires: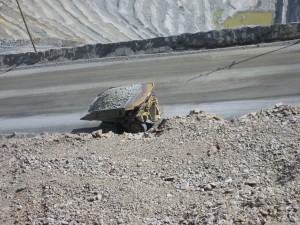 When they came back we had dinner with everyone and then went swimming. Jared and I love playing with the kids in the water. Our nieces and nephews love to be splashed and thrown. It is tiring but we love it too!
We went home exhausted but had a great day!