We just enjoyed a wonderful reunion with Jared's extended family. The Smith's hold a reunion every other year and it is usually on the Oregon Coast at Lincoln City. This year Mom and Dad Martin were not able to join us as they still have a few more months left serving their mission in Florida. We missed them but still had a great time getting together with Jared's siblings, Aunts, Uncles and cousins. We had beautiful sunny weather (although not always warm due to the wind on the beach).
Jared and the other men and boys put on wet suits and rented boogie boards and played in the waves. They had a great time! I have done this many times as well but I prefer to go when it is actually warm outside. 🙂
While Jared was playing in the water, I was playing with my 2 year old niece in the sand. We built sand castles and then Kendyl got to jump on them. We also went in the water and jumped the waves. She had so much fun. I love playing with her.
I also got a number of photos of Kendyl flying a kite with her mother.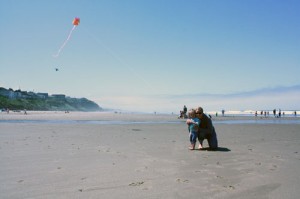 Another day the wind was so strong on the coast that we decided to go to the lake. We found a small sandy beach and other family members joined us and we ended up with a nice group of little kids. The water was warm and calm for swimming and wading. We decided that we should take advantage of the lake more often when the ocean beach is too cold. 🙂
We had a very low tide while we were there which made for great tide pools and access to caves that the waves have cut out of the rocks. The kids (and the adults) were amazed by the amount of sea life that was on display at in the tide pools. The caves were interesting and some had drift wood that had been wedged up in the ceiling by the powerful waves. We live in an amazing world!
We also enjoyed the Forth of July Fireworks. We had a great view from the house that looked down the beach and we saw a number of private shows as well as the big Lincoln City show. It was wonderful! I love watching fireworks especially with friends and family.
What a great reunion!!! We were sad to leave everyone and look forward to the next one.