Mom and Dad Martin were finishing their mission in Fort Lauderdale, Florida and decided that they should end with a cruise since they had been living only 15 minutes from the cruise terminals.  They invited all of Jared's siblings and Kyle and Elise came.  We of course decided to go with them, although we did not book the actual cruise until a week before we left.  We did not want to schedule too early in case there was an opportunity to be placed with a baby.
Saturday we flew in to Fort Lauderdale  and spent the night with Mom and Dad.  Sunday we went to church and then boarded the ship for 10 days in paradise!!
Day 1 – Ship day.  I enjoyed a good book, sun, the pools, exercising and of course good food.  Jared enjoyed exploring the ship, watching movies on the deck of the pool, exercising and the food.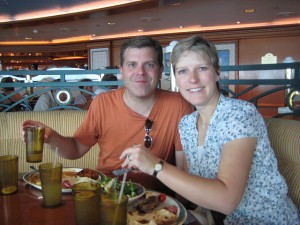 Day 2 – Ship day.  Relaxing…more of the above.
Day 3 – Antigua – We booked a shore excursion and went kayaking and then boarded a boat to go to bird island to snorkel.  This excursion was too structured for us.  The guides required that we stay with them while kayaking and then when we were snorkeling they instructed those who had no experience stay by the boat and those with experience stay with the guide.  We like being able to explore on our own.  I saw my first squid while snorkeling!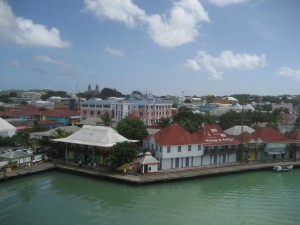 Day 4 – Barbados – Boarded a Submarine and explored the depths of the sea… a coral reef and a ship wreck.  We got down to 142 feet below the surface.  What a great trip!  Next time I want to go scuba diving with Jared.  I just need to get him certified.
Day 5 – St Lucia – We booked a tour when we got off the ship which can be risky, but we had a great time.  We took a catamaran around the island to Soufriere (french for Sulfur Air), boarded a taxi and drove through the active crater of a volcano and then to a waterfall and back to the catamaran.  We stopped by a beach and were able to get out and swim.  As soon as we dropped anchor some of the island natives came up on kayaks to sell conch shells and other items.  I have always wanted a large conch shell to display on a shelf so we purchased one and then went for a nice swim.  It was a great tour!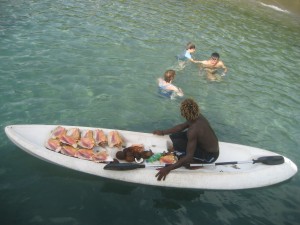 Day 6 – St Kitts – We found a local taxi driver/tour guide in the port and had him take us around the island.  He took us through town and showed us many of the old churches and buildings and told us of the history of the island.  He took us by some ancient petroglyphs, one supposedly helped with fertility so we got out of the taxi so that we could touch it and take advantage of it's "power".  😉  We drove through a rain forest, toured the location where they manufacture Batik fabrics.  We then drove up a hill where we could view both the caribbean sea and the Atlantic sea.
Day 7- St Thomas – It was Sunday so we went to sacrament meeting with Mom, Dad, Elise and Kyle.  It was an expensive trip as the taxi driver charged us $8.00 per person to take us.  We found the local bus to get a ride back to the ship.  It should have cost $2.00 per person but the driver went off his route to take us back and then charged us $5.00 per person.  After we got back, Jared and I grabbed our snorkel gear and took a taxi to a beach with a great reef and spent the afternoon swimming with the fish.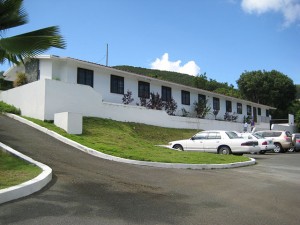 Day 8 -Bahamas.  Spent the day enjoying the white sand, blue ocean, snorkeling, and the sun.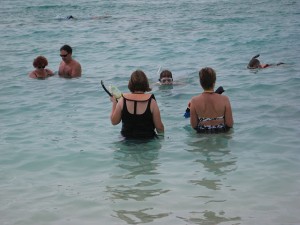 Day 9 – Ship Day and Formal Dinner and enjoying our last second course of dessert, chocolate obsession.  YUMM!!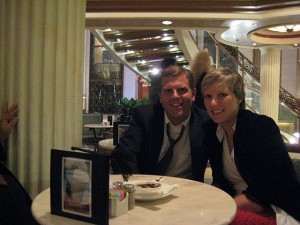 Day 10 – Arrived back in Fort Lauderdale, disembarked, flight home.